Monastic Life
Our name shows our deep ties to both the Benedictine tradition and to Our Lady.  Most visitors to Benedictine monasteries are immediately struck by the deep peace which embraces them when they arrive. And indeed, Peace (Pax) has always been one of the trademarks of monasteries down the centuries. Likewise, the last few centuries have seen an increasing number of apparitions of Our Lady where she has been concerned for peace, continually asking her children to pray for peace in the world. This call for peace is very needed in our world today, and so we dedicate our way of life to Our Lady and St. Benedict so that as patrons and promoters of peace, they might intercede to bring about peace in our hearts, our families and communities, our country and our  world. We welcome visitors, retreatants, and anyone who would like to join us for our daily routine of prayer in our chapel. Please see our schedule for times of prayer.
Ultimately, there is only one vocation, the vocation to Love, in whatever form the Lord calls an individual to exercise and grow in that love: as spouses, parents, single men and women, religious, or priests. Everyone is called to love and to pour oneself out like Christ for his or her brothers and sisters. The fruits of selfless Love are Peace and Joy. We pray that God's love, peace and joy may enter more deeply into our world today, beginning with ourselves and overflowing to each one of you.
For more information about our community, visit the Catholic News Herald article here
Vocations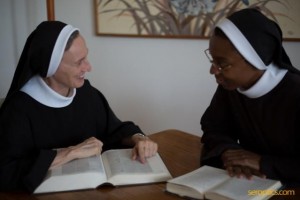 Women between the ages of 22-39 who feel drawn to a deeper prayer life, devotion to Our Lady, and a fuller surrender of their lives to God, may visit and live with the Sisters for a period of prayerful discernment. Please contact us to arrange a time for a visit. We ask everyone to pray for an increase of vocations to the religious life and to the priesthood throughout the world today.
Interested in Becoming an Oblate?
We also welcome those who would be interested in pursuing an association with us as Oblates. In the Benedictine tradition, Oblates are those members who are joined spiritually to the Sisters and their work and thus benefit spiritually from the community's prayers and good works. They also strive to apply the values which are contained in St. Benedict's Rule, such as regular prayer, humility, silence, lectio divina, and obedience to their own lives to the extent that is possible for them as they live out their own vocations in the world. The Oblates meet once a month for a talk on the Rule of Saint Benedict or on some monastic theme. Those interested in enriching their lives in this way may contact us for further information.