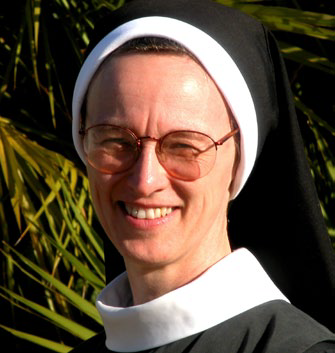 Sister Gertrude Gillette was born in 1953 and grew up in South Bend, Indiana. She graduated from St. Benedict Academy in Still River, Massachusetts, and joined a new community of Sisters who taught her during High School. When this community became Benedictine in 1980, Sr. Gertrude was among the founding members. After further training in the Benedictine life at Stanbrook Abbey, England, she made her Solemn Profession at St. Scholastica Priory in 1984. The following year the community moved from Still River to Petersham, Massachusetts. She received her B.A. from Magdalen College (New Hampshire), and her M.A. (1991) and Ph.D. (1996) from the Catholic University of America in Early Christian Studies/Patristics.
Sister then had the opportunity to spend 6 years in Europe, teaching in Gaming, Austria (1996-1999), and in Rome (1999-2002), serving as superior of the international house of studies for Benedictine women (Casa Santa Lioba), and helping to set up the Monastic Formators' Program. She also attended classes in Rome and obtained an S.T.B. from the Angelicum. It was during her years in Rome that she received the impetus to make a new Benedictine foundation which she and Sr. Theresa Scheuren began in 2003. She is received a licentiate thesis for the Collegio Sant'Anselmo in the field of Monastic Studies, entitled "Anger in Community: A look at Ancient Monastic Texts." This was published under the title of "The Four Faces of Anger" Seneca, Evagrius Ponticus, Augustine and Cassian." She was also an Associate Professor of Theology at Ave Maria University for over 8 years.
Besides her role as superior of the new foundation, Sr. Gertrude works on putting together a monastic liturgy for the house. She is currently working for the Charlotte Diocese in a variety of teaching roles.
With the move to Rutherfordton, NC in 2017, Sr. Gertrude retired from teaching. She continues to give retreats and lectures from time to time, but most of her energy is now spent on building up the community, physically and spiritually in their new environment.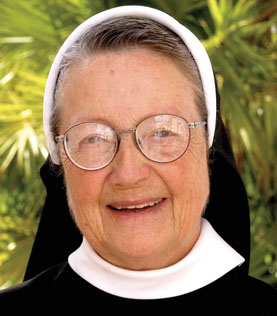 Sister Theresa Scheuren, O.S.B. (R.I.P.) was born in Wagner, South Dakota, a small town near Yankton, South Dakota. Her parents sent her to Mt. Marty High School in Yankton where she received an excellent education. The Benedictine Sisters who educated her initiated her into the liturgical life of the Church and inspired in her a love for the Benedictine life. She attended Mt. St. Scholastica College in Atchison, Kansas, and entered the Benedictine Community there. When the Sisters there founded a new community in Glendora, California, she became a founding member of St. Lucy's Priory.
She graduated from the University of San Diego, California, with a B.A., and received her M.A. in Theology from St. John's University, Collegeville, Minnesota.
One of the primary apostolic endeavors of the Benedictine Sisters in the US was the education of the young and so she was assigned to teaching for many years. She was also involved in Development work at St. Lucy's Priory High School and built a new gymnasium for the school. This led to her role as Development Director at St. Andrew's Abbey in Valyermo, California, where she assisted the monks in the many ways of raising funds for the Abbey.
Sister Theresa embarked on another great adventure: helping to establish a new Benedictine monastic community for women in Naples, Florida. Her wonderful energy, joy, and past experiences all come together as so many gifts in establishing new beginnings.
After five heroic years of assisting in the foundation of the new community and battling cancer, our beloved Sr. Theresa died on December 7, 2008. More information on her may be found in our newsletter, The Pelican, issue: winter 2009.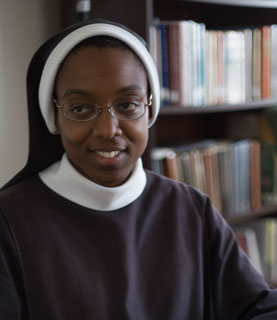 Sister Scholastica Auguste was born in St. Lucia in the Carribean. She attended Northwestern College in Wichita Falls, TX, earning a degree in Environmental Science. After college she worked for some time in the US (Wisconsin, Minnesota and Chicago) and then returned to her native country. There she taught for 3 years, while her vocation was nourished by a local prayer group (Magnificat) to which her mother (Anna Auguste, R.I.P.) and several friends belonged. She first visited the community in August 2004 and joined a year later on the feast of the Assumption, August 15, 2005. Sr. Scholastica is the cellarer of the community, having the responsibility for all things practical: cooking, shopping, cleaning, bookkeeping and gardening. She also teaches a Monastic Author's class to the novices.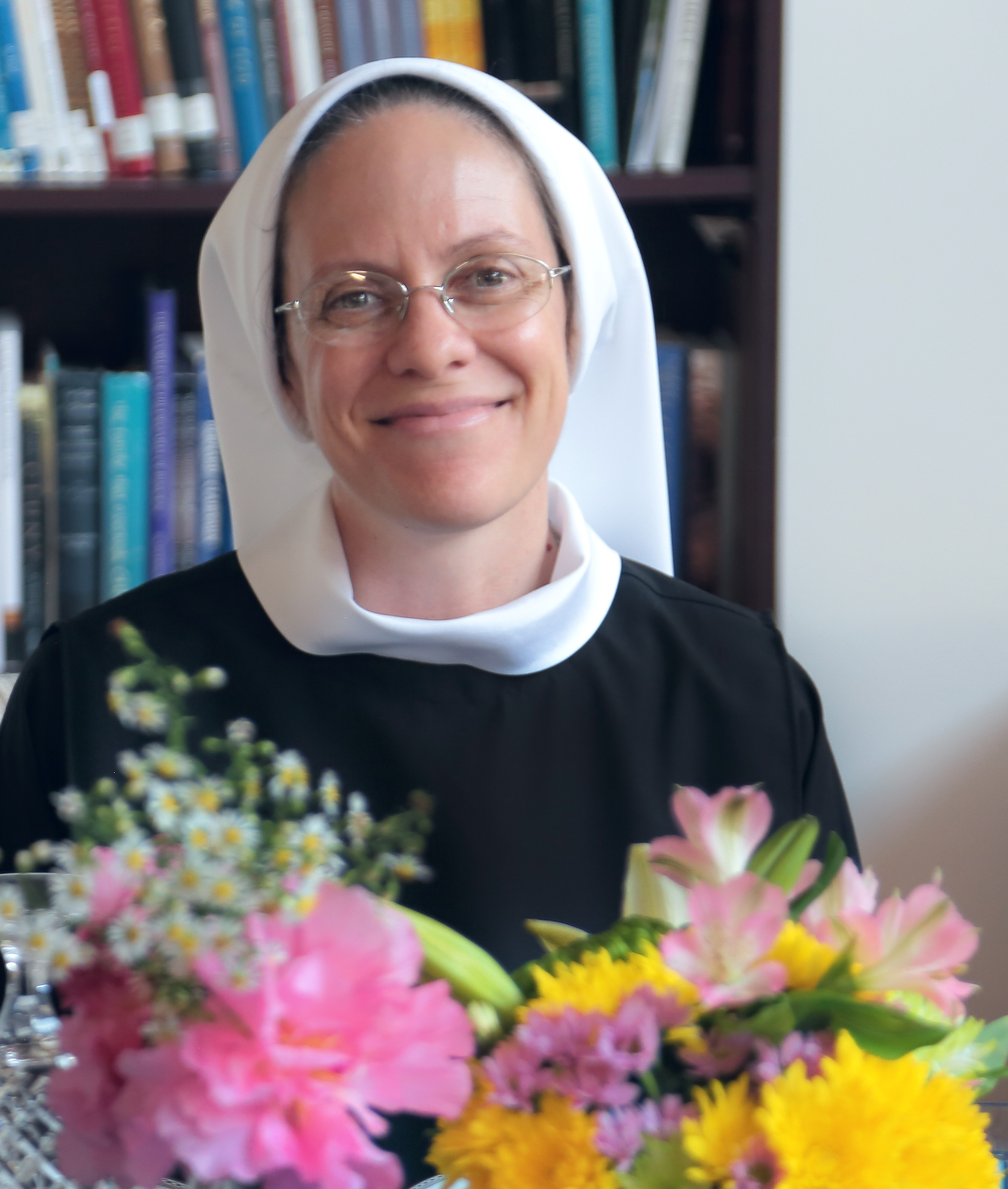 Sister Maria Regina Walker was born in a conservative, Southern Baptist, Marine Corps family which traveled frequently through her childhood, taking her to the far corners of the United States from PA–where she was born–to FL, WA, and CA, and even overseas to Japan until her father retired in the small military town of Havelock, NC, when she was a teen. As a young adult, Sr. Regina attended St. Andrews University on a creative writing scholarship with the intention of becoming a freelance author. Yet God's will through the ironic vicissitudes of life, intervened, and Sr. Regina was employed in a  wide variety of work: managing a coffee shop, working for a printing company, and painting houses through her twenties. At that age, she would have told you that she was uncertain what course her life should take. She left drawn to a deep life of prayer and, after entering the Catholic Church, spent 3 years discerning a vocation in a cloistered, Carmelite monastery in Pennsylvania. Over time it became clear that she wasn't meant to be a Carmelite and she left to re-discern God's will for her. God, for His part, brought her into contact with a more monastic Benedictine way of life, which seemed to be a better compliment to the spiritual gifts and charism which He has given her. After a few more years of discernment she joined the Benedictines of Mary, Queen of Peace and has recently completed her initial formation as a postulant and novice. Sr. Regina made her first vows at the Vigil Mass of All Saints–October 31, 2020. As a junior professed nun, she is continuing her studies in Monastic History, Monastic Authors, Latin, Gregorian chant and other related studies. In her free time, Sr. Regina likes to read books of all kinds, but especially books of history or philosophy. She also appreciates a good thoughtful conversation on the Catholic faith, scripture or her patronness, the Blessed Virgin Mary.