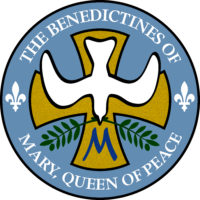 The Benedictines of Mary, Queen of Peace strive to live a communal live guided by the Rule of Saint Benedict with an apostolic outreach. Concretely, this means that our life centers around singing the Divine Office in community, with other monastic values of silence, prayerful reading (lectio divina), study and manual labor. At the same time, part time forays to lecture, teach or give retreats in schools or parishes are a positive way we can contribute to building up the Body of Christ through evangelization in the 21st century. 687 Moss Road, Rutherfordton, NC 28139  704-827-2490  qopbenedictines@gmail.com
For more information, please feel free to call us or send us a message using the email above. Someone will be in touch with you as soon as possible. God bless you.
News Item!
After years of wandering in our own "desert" hoping one day to settle down in our own "promised land," we found this year (2017) a little farm in Rutherford County, NC, with 7 acres on a hilltop overlooking the Blue Ridge Mountains. After a few months of painting and renovating, we moved in August. The main and upper level has the kitchen, refectory and living room as well as a loft area (which we are using for office space) and 3 bedrooms and 2 1/2 baths. The lower level which we are slowly renovating, has a kitchen, common area, 2 bedrooms and a bath. It has the potential to be a guest/retreat area one day. In the meantime, we are using the common area on this lower level for our temporary chapel. Plans have been drawn up–and some preparatory work has been done–to prepare the ground for construction so that we can add a section to the house which will serve as a chapel and a library. God-willing, that will be completed sometime in late Spring 2018.
Please feel free to visit, to join us for prayer, or to schedule to make a private retreat.